Kevin Stern
Your Friendly Guide to Greater Palm Springs
---
Hi, I'm Kevin Stern, and I'd love to help you make the move to the desert! There's never been a better time to move to this amazing community, where you can own a bigger home for a lot less, and enjoy big city amenties without big city hassles.
I invite you to review all the info on this site, and click here to get our guide to local neighborhoods and home listings. And I welcome your call or email if you have questions
---
About Kevin
I LOVE it here, and have owned a small real estate brokerage for more than 15 years, focused on giving a high level of personal service to buyers and sellers. We specialize in clients who are moving here from other cities, as well as members of the LGBT community, first time homebuyers, and those seeking a second home.
Read on for more info and let me show you why Greater Palm Springs may be just the perfect move for you, then GIVE ME A CALL or SHOOT ME AN EMAIL
---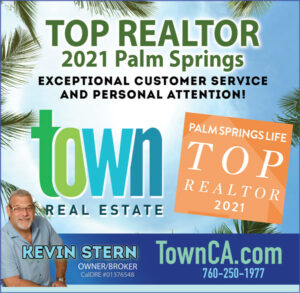 ---
MY PHILOSOPHY
I always try to understand the issues/challenges and then think out of the box to achieve a win/win for all parties. The goal is to always have happy clients. Always to treat others the way I wish to be treated, fairly, respectfully and creatively. In the end, I'd rather have a referral than a sale.
MY BACKGROUND
The bay area/San Jose is where I grew up. I always worked and was easily promoted to higher positions because of my hard work and work ethic. I found my first passion in the Travel Industry. After a 10 plus year career with a Major Fortune 500 company, I decided to go out on my own. I bought a small fledging travel agency and through hard work, many learning experiences, and a little luck, the company grew to a major player in the leisure travel sales arena.
In 2000, I lost my life partner and began to re-evaluate my life. As a result, a year later I sold the business and took some time off traveling around. I had spent several vacations in Palm Springs and decided to try it so I lived in my RV for 6 months experiencing the desert area and deciding if I wanted to make the move. During that time I got my Real Estate License and began my new career. Several years later, I received my Brokers license and opened Town Real Estate. I haven't looked back and still to this day love living here in the Palm Springs area. It's hard to believe it's been over 15 years!
MY PROMISE
We at Town Real Estate and me in particularly, believe we owe it to our clients to deliver the highest in service levels. Always delivering above and beyond what one expects.
My goal is to have happy clients, and lifelong friends and referrals.

Welcome Home!
Give me a call or send an email
AND CLICK HERE TO GET MY FREE GUIDES TO PALM SPRINGS
---
Kevin Stern
Town Real Estate
760-250-1977

CalDRE #01376548